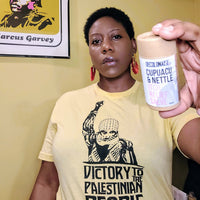 Skincare that Gets Political
Decolonaise Hair and Body,  is a personal care brand that is the main economic development project of the African National Women's Organization. 
At DeColonaise Hair and Body, we understand that  colonialism has a major impact on how we view and take care of ourselves and thus believe that the practice of decolonization should be applied to our beauty and personal care practices. Our products remedy everything from dry skin to thirsty hair. So while you are decolonizing your hair and body with our natural products that will destroy free-radicals, and eliminate toxins, read the revolutionary quotes on our packaging begin conversations about freedom.
Testimonials
Ojii Face and Body Scrub is the truth! My skin feels like butter after using it. After washing off spray with some Hydration Mist....yes goodness.😍😍😍

Miezi Tadiwa
You should rename the Imperialism is Dying Puddin' to ashy feet butter. My husband used them on his dogs and it cleared them cracks and ash right away. 😂🤣😂

Rita Johnson-Fleary
Love the smell, texture and moisturizing qualities of these butters. I purchased each. I live in Arizona so it's great for my dry hair and skin.

Paula Lipsi