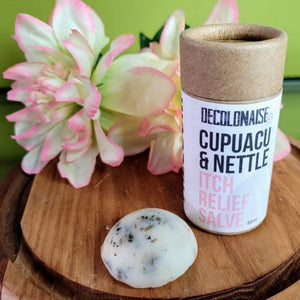 If you are like us, colonialism makes you itch.  Use this salve to calm irritation and condition the skin.  Featuring General Harriet Tubman's image and inspired by her words "don't ever stop, keep going, if you ever want a taste of freedom, keep going."  If you want freedom from your itch, use this.  Also great as a lip balm and general dry skin relief.

BENEFIT
Nettle - natural herb that has been used for centuries for a number of health practices including to calm inflammation of the skin and in the body. .

Cupuaçu butter -  similar to Shea butter, this butter has amazing properties that contribute to the conditioning and restoring the elasticity of the skin.

Quote
"Don't ever stop, keep going, if you ever want a taste of freedom, keep going."  - Harriet Tubman